03/01/11
J'avais PRESQUE terminé le challenge 2010, je n'abdique pas et je reviens de plus belle pour the 1st In a Series Reading Challenge 2011 !
There are four levels for this challenge:

Series Novice: Read 3 books that are the first in any series.
Series Lover: Read 6 books that are the first in any series.
Series Expert: Read 12 books that are the first in any series.
Series Fanatic: Read 20 books that are the first in any series.
Au programme :
LU : Soulless - Gail Carriger
LU :

Bitten & Smitten - Michelle Rowen

LU :

Undead and Unwed - Mary Janice Davidson

LU :

The Rest Falls Away : The Gardella Vampire Chronicles - Colleen Gleason

LU :

The devil inside (Morgane Kingsley) - Jenna Black

LU : Rosemary and Rue (October Daye series) - Seanan McGuire
LU : Ill Wind - Rachel Caine

Destiny kills (Myth and magic series) - Keri Arthur

LU : Grave Sight (Harper Connelly #1) - Charlaine Harris (en VF : Murmures d'outre-tombe)

Storm born (Dark Swan) - Richelle Mead

Red-headed stepchild - Jaye Wells

LU :

A quick bite (Argeneau) - Lynsay Sands

LU :

Spider's bite (Elemental assassin) - Jennifer Estep

LU :

Kiss of midnight (Midnight breed) - Lara Adrian

LU : My Soul to take (Soul screamers) - Rachel Vincent

Firespell : a novel of Dark Elite - Chloe Neill

LU : Once dead, Twice shy (Madison Avery) - Kim Harrison
LU : Immortal Beloved - Cate Tiernan (en VF : Immortels)
LU : Infinite days - Rebecca Maizel
LU : The Summoning - Kelley Armstrong (en VF : L'invocation) [#]
Hosted by Sab @ YA Bliss, YA Historical Fiction Challenge !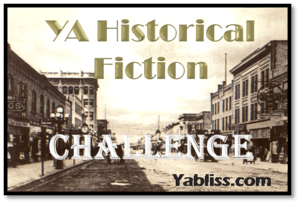 There are three levels to choose from for this challenge -
* Level 1: 5 YA HF books in 2011
* Level 2: 10 YA HF books in 2011
* Level 3: 15 YA HF books in 2011
I have a tentative list of books for now -
LU : Splendor - Anna Godbersen

Bright Young Things - Anna Godbersen

Vixen - Jillian Larkin

Clockwork Angel - Cassandra Clare

A Great and Terrible Beauty - Libba Bray (en VF : Les sorcières de Spence)

The Season - Sarah MacLean

The Other Countess - Eve Edwards

LU : The Body at the Tower - Y.S. Lee (en VF : Le crime de l'horloge) [#]

Everlasting - Angie Frazier

I was Jane Austen's best friend - Cora Harrison

The Fool's girl - Celia Rees (en VF : Illyria)

LU : Hetty Feather - Jacqueline Wilson (en VF : les malheurs de Millie Plume) [#]
LU : Prada & Prejudice - Mandy Hubbard (en VF : Prada et préjugés) [#]
LU : The Case of the Gypsy Goodbye - Nancy Springer (en VF : Métro Baker Street) [#]
LU : Malo de Lange, fils de personne - Marie Aude Murail
LU : Clandestine - Nicolas Jaillet
16/12/10

Le forum La Mare aux Mots, site dédié à la culture pour la jeunesse, organise un concours pour la fin d'année. Vous souhaitez gagner un cadeau surprise ? Le principe est simple, il suffit de partager votre coup de coeur de l'année 2010 et/ou de parler le plus possible du concours autour de vous.
Bonne chance à tous ! Et bravo Alexandra pour son dévouement. Un clic sur la bannière pour en savoir plus ... ;)
16/02/10
Sur l'initiative de Sophie (Herisson08), Je lis aussi des albums se présente comme un challenge facile, sympathique, avec un logo ravissant. Mon défi : lire 24 albums.
(challenge bouclé le 30 mars 2010)
02/01/10
I've placed this challenge upon myself, so I decided to share it with the blogoverse. I enjoyed books such as The Hunger Games and Uglies so much that I planned on revisiting them this year, along with others in this category for comparison purposes. Therefor why not a challenge? First one that I am hosting. The challenge with end Aug 24th, in tribute to the release of the 3rd Hunger Games book. Posted by ParaJunkee
dys·to·pi·a (dĭs-tō'pē-ə)
An imaginary place or state in which the condition of life is extremely bad, as from deprivation, oppression, or terror.
Level 1 - Experimental - 5 books
Level 2 - Addict - 10 books
Level 3 - Junkee - 20 books
Some of the books I'm considering:
LU : The Adoration of Jenna Fox - Mary E. Pearson [#]
LU : Girl in the Arena - Lise Haines [#]
LU : How I Live Now - Meg Rosoff [#]
LU : The Forest of hands & teeth - Carrie Ryan [#]
Candor - Pam Bachorz
The Other Side of the Island - Allegra Goodman
Uglies - Scott Westerfeld
Gone - Michael Grant
The Maze Runner - James Dashner
Pastworld - Ian Beck
The Line - Teri Hall
Bones of Faerie - Janni Lee Simner
LU : Mockingjay - Suzanne Collins [#]
LU : Méto, tome 1 : La maison - Yves Grevet [#]
LU : Méto, tome 2 : L'île - Yves Grevet [#]
LU : Méto, tome 3 : Le monde - Yves Grevet [#]
LU : The sea-wreck stranger - Anna Mackenzie [#]
LU : Incarceron - Catherine Fisher [#]
Life as we knew it - Susan Beth Pfeffer
Birthmarked - Caragh M. O'Brien
Genesis - Bernard Beckett
The Knife of never letting go - Patrick Ness
The Dead-Tossed Waves - Carrie Ryan
The City of Ember - JeanneDuPrau
Matched - Ally Condie
Leviathan - Scott Westerfeld
Mortal Engines - Philip Reeve
The Resistance - Gemma Malley
Matched - Ally Condie
Delirium - Lauren Oliver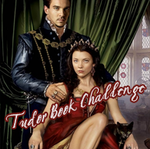 Benedictionary presents : the Tudor Book challenge.
From January 1st, 2010 to December 31st, 2010 The Tudor Book Challenge challenges you to read books about or inspired by the Tudor era of the English monarchy.
The challenge levels :
King or Queen – You are the ruler of your dominion. You will read at least 11 Tudor-related books.
Nobleman or Noblewoman - You are honorable, indeed. You have earned your title by agreeing to read at least 9 Tudor-related books.
Courtier – You are a rising star in the royal court. You have decided to read at least 7 Tudor-related books.
Commoner – Your role in the kingdom is small but mighty. You are going to read at least 5 Tudor-related books.
NB : The Tudor dynasty ruled England between August 22, 1485 and March 24, 1603.
Founders of the dynasty were Henry Tudor and Elisabeth Plantagenet.
The last member of the dynasty was Queen Elisabeth I of England who ruled between January 15, 1559 through March 24, 1603.
Their ethnicity was Welsh.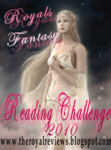 Alaine from Royal Reviews is hosting this year's Fantasy Reading Challenge.
The Fantasy Reading Challenge can include YA Fantasy or Historical Fantasy, Science Fiction Fantasy or any other sub genre of Fantasy. There really are no limits to this challenge as Fantasy is such a wide and varied genre.
There are four levels:

-- Curious – Read 3 Fantasy Fiction novels.

-- Fascinated – Read 6 Fantasy Fiction novels.

-- Addicted – Read 12 Fantasy Fiction novels.

-- Obsessed – Read 20 Fantasy Fiction novels.
Some of the books I'm considering:
LU : The Iron King - Julie Kagawa [#]
LU : Fire - Kristin Cashore [#]
LU : City of Glass - Cassandra Clare [#]
LU : Moonlight - Rachel Hawthorne [#]
LU : Demon Princess - Michelle Rowen
Other – Karen Kincy
LU : The Demon's Lexicon - Sarah Rees Brennan [#]
LU : Incarceron - Catherine Fisher [#]
Rampant - Diana Peterfreund
LU : My love lies bleeding - Alyxandra Harvey [#]
LU : Evernight - Claudia Gray [#]
Fairy Tale - Cyn Balog
LU : Ink Exchange - Melissa Marr [#]
LU : Poison study - Maria V. Snyder [#]
LU : Kissed by an Angel - Elizabeth Chandler [#]
LU : Malice - Chris Wooding [#]
LU : Hush, Hush - Becca Fitzpatrick [#]
LU : Blue Moon - Alyson Noel [#]
LU : Silver is for secrets ~ Laurie Faria Stolarz [#]
LU : Wings ~ Aprilynne Pike [#]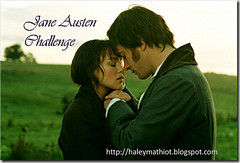 The Life (and Lies) of an Inanimate Flying Object is hosting the Jane Austen Challenge 2010!
Here are the reading levels to help you choose:
Newbie 2 books by J. Austen, 2 re-writes, prequels, sequels, or spoofs (by other authors)
Lover 4 books by J. Austen, 4 re-writes, prequels, sequels, or spoofs (by other authors)
Fanatic 6+ books by J. Austen, 5+ re-writes, prequels, sequels, or spoofs (by other authors)
Some of the books I'm considering:
The Trials of Honorable F. Darcy - Sara Angelina
Austenland - Shannon Hale
Me et Mr Darcy - Alexandra Potter
What would Jane Austen do ? - Laurie Brown
Jane Bites Back - Michael Thomas Ford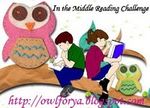 Jill from The O.W.L. wants us all to read some middle grade fiction this year!
There are so many amazing MG books out there, and I'd love to get more people reading them. With that in mind I decided to host a challenge for middle grade books - In the Middle Reading Challenge. Here's "rules" for the challenge.
You must read middle grade books. These are books deemed right for kids ages 9 (sometimes 8) - 12.
There will be 4 levels:
5th Grader: At least 4 Books
6th Grader: At least 6 Books
7th Grader: At least 8 Books
8th Grader: At least 10 Books
ont déjà été lus :
1. L'incroyable voyage de Jeanpoté ~ J.M. Trewellard [#]
titre vo : Butterfingers
2. La voix du diable ~ Sylvie Brien (Les enquêtes de Vipérine Maltais) [#]
3. Les Tartines au kétcheupe ~ Marie-Sabine Roger [#]
4. Suite Scarlett ~ Maureen Johnson [#]
5. Tattoo ~ Jennifer Lynn Barnes [#]
6. 7. A quoi servent les clowns ? ~ Anne Percin
Poil au Nez ~ Cécile Chartre [#]
8.. Aggie change de vie ~ Malika Ferdjoukh [#]
9. 10.. Les anglaises ~ Marie Chartres
Ma mère est une étoile ~ Marie Leymarie [#]
11. La Formule du succès ~ Linda Urban [#]
titre vo : A Crooked kind of perfect
12. Mon coeur n'oublie jamais ~ Agnès de Lestrade [#]
13. 14. La soupe aux amandes ~ Sylvie Deshors
Ce soir-là ~ Agnès Lacor [#]
15. Tricot d'amour ~ Karin Serres [#]
16. Odette ou les tribulations d'une pigeonne ~ Lili Pissenlit [#]
17. Ariane l'araignée ~ Pascale Chadenat [#]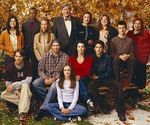 From Lisa, Gilmore Girls Reading Challenge
Books played a big part in the television show "The Gilmore Girls." Rory was an avid reader. When Rory and Lorelai were going to Europe, Rory wanted to bring 12 books. Mind you, she was carrying everything in a backpack. Recently, a friend sent me a link to an episode-by-episode listing of all of the books seen, read, or mentioned in the series and the idea for a challenge was born. Of course, I didn't really have any idea how many books that actually was. Or how to set up a challenge. So I'm a little late getting this up and running. The good news is that there should be something in this for everyone. Rory and company read everything from Homer to Dan Brown and poetry to social commentary. The challenge will officially run from January 1, 2010 through December 31, 2010.
There are three levels of participation:

Emily: Read 5 books from at least two different categories.
Lorelai: Read 10 books from at least three different categories.
Rory: Read 20 books from at least four different categories.
Voici ma sélection :
Jane Austen - Northanger Abbey

Emily Brontë - Wuthering Heights
Charlotte Brontë - Jane Eyre
Daphne Du Maurier - Rebecca
Harper Lee - To Kill a Mockingbird