02/01/10
Kay Cassidy and Jessica of Chick Lit Teens are co-hosting a reading challenge. The goal is simple — read 10 teen chick lit titles this year.
Some of the books I'm considering:
challenge bouclé en juillet 2010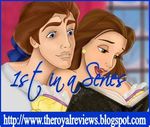 Alaine, the queen of happy endings, from Royal Reviews :
As so many of us love reading our series this one gives you the chance to include them in your challenges. As with all our other challenges there are various levels from the Curious to the Obsessed.

-- Curious– Read 3 novels that are first in a series.

-- Fascinated – Read 6 novels that are first in a series.

-- Addicted – Read 12 novels that are first in a series.

-- Obsessed – Read 20 novels that are first in a series.
Any genre counts.
Some of the books I'm considering:
LU : Strange Angels - Lili St Crow [#]
Bitten & Smitten - Michelle Rowen
LU : Vampire Academy - Richelle Mead [#]
LU : Kitty and The Midnight Hour - Carrie Vaughn [#]
LU : Some Girls Bite - Chloe Neill [#]
Nice Girls dont't have Fangs - Molly Harper
LU : Glass Houses : The Morganville Vampires - Rachel Caine [#]
LU : Stray - Rachel Vincent [#]
LU : Full Moon Rising - Keri Arthur
LU : Gentlemen Prefer Succubi - Jill Myles [#]
The Rest Falls Away : The Gardella Vampire Chronicles - Colleen Gleason
LU : Happy Hour at Casa Dracula - Marta Acosta [#]
Naida of The Bookworm is hosting the Romance Reading Challenge again in 2010.
Choose at least 5 novels read them between Jan 1st though Dec 31st 2010.
"Romance" isn't limited to steamy Harlequin novels. There is a huge selection of books in this category such as contemporary romance, historical romance, romantic suspense and paranormal romance to name a few. As long as the story has romantic love between the two main characters your selection will fit this challenge. The novels do not need to have a happy ending either, there can also be unrequited love.
Some of the books I'm considering:
The Duke and I - Julia Quinn
LU : Xylara - Elizabeth Vaughan
LU : Secrets of a summer night - Lisa Kleypas
LU : Highlander Untamed - Monica McCarty
A Rose in Winter - Kathleen Woodiwiss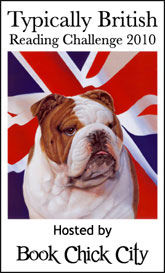 Book Chick City is hosting the Typiccaly British Reading Challenge 2010.
There are four levels:
• "Put The Kettle On" – Read 2 Typically British novels.
• "Gordon Bennett" – Read 4 Typically British novels.
• "Bob's Your Uncle" – Read 6 Typically British novels.
• "Cream Crackered" – Read 8 Typically British novels.
Obviously only British authors count!
Some of the books I'm considering:
Book Lover - Jennifer Kaufman and Karen Mack





Acting Up - Melissa Nathan



The Diamond of Drury Lane - Julia Golding



The White Little Horse - Elizabeth Goudge

Living Dangerously - Katie Fforde

LU : Girl, 15, Charming but Insane by Sue Limb

LU : Entangled by Cat Clarke

LU : Finding Sky by Joss Stirling

LU : Blood sinister by Celia Rees (en vf : Malédiction du sang)

LU : 0.4 by Mike A. Lancaster

LU : iBoy by Kevin Brooks

LU : The chocolate box girls - Cherry crush by Cathy Cassidy (en vf : Coeur cerise)

LU : Withering tights - Louise Rennison (en vf : Les mésaventures de Tallulah Casey)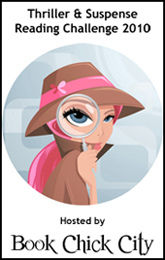 Book Chick City is hosting the Thriller and Suspense Challenge 2010.
Timeline: 01 Jan 2010 - 31 Dec 2010
Rules: To read TWELVE (12) thrillers in 2010
(liste à venir)
ont déjà été lus :
1. Ce que j'ai vu et pourquoi j'ai menti ~ Judy Blundell [#]
titre vo : What I saw and how I lied
2. Le temps de la vengeance - R.N. Morris [#]
titre vo : A vengeful longing
3. Mr. Zero ~ Patricia Wentworth [#]
titre vo : Mr Zero
4. Fantômes d'hiver ~ Kate Mosse [#]
titre vo : Winter Ghosts
5. La Maison du Maître ~ Martha Grimes [#]
titre vo : Dust
6. Oscar Wilde et le meurtre aux chandelles ~ Gyles Brandreth [#]
titre vo : Oscar Wilde and the Candlelight Murders
7. Le diable du Crystal Palace ~ Fabrice Bourland [#]
8. Les aventures de Sherlock Holmes ~ Arthur Conan Doyle [#]
9. Le Secret de l'éventail (Les enquêtes d'Enola Holmes) ~ Nancy Springer [#]
10. L'Enigme du message disparu (Les enquêtes d'Enola Holmes) ~ Nancy Springer [#]
11. La pendule endormie (L'Arcamonde) ~ Hervé Picart [#]
12. The Agency (Le pendentif de jade) ~ Y.S. Lee [#]
challenge bouclé - juin 2010
Enchanted by Josephine is launching its own historical reading challenge for 2010!
FRENCH HISTORICALS Oh-La-La! Challenge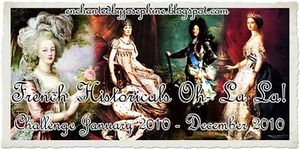 All you have to do is read any Historical Fiction or Non-fiction books based on French history or French historical figures. Books can also overlap with other Challenges.
Reading Levels:
La Princesse: Read 3 books
La Dauphine: Read 6 books
La Reine: Read 9 books
L'Impératrice: More than 9 books
ont déjà été lus :
1. Les Demoiselles du Palais-Royal ~ J. Esther Singer [#]
2. Intruse ~ Nicolas Jaillet [#]

From Kristi, The Story Siren
What is the 2010 Debut Author Challenge?

The objective is to read a set number of YA (Young Adult) or MG (Middle Grade) novels from debut authors published this year. I'm going to challenge everyone to read at least 12 debut novels !
Some of the books I'm considering:
LU : The Dark Divine - Bree Despain [

#

]

LU : Fallen - Lauren Kate [#]
LU en 2011 :

Scones and sensibility - Lindsay Eland

LU en 2011 : The Secret Year - Jennifer Hubbard
LU en 2011 :

The Cinderella Society - Kay Cassidy

LU : The Lonely Hearts Club - Elizabeth Eulberg [#]

Bleeding Violet - Dia Reeves

LU : Hex Hall - Rachel Hawkins [

#

]
LU : Brightly Woven - Alexandra Bracken [#]

Before I Fall - Lauren Oliver

The Line - Teri Hall

Princess for Hire - Lindsey Leavitt

13 to Life - Shannon Delaney

LU : The Iron King ~ Julie Kagawa [#]
LU : Hush, Hush ~ Becca Fitzpatrick [#]

Sea – Heidi R. Kling

Other – Karen Kincy

Nevermore – Kelly Creagh

Everlasting – Angie Frazier

Nightshade – Andrea Cremer

Shadow Hills – Anastasia Hopcus

Angel Star – Jennifer Murgia

LU : Personal Demons - Lisa Desrochers

All Unquiet Things – Anna Jarzab

LU : Claire de Lune – Christine Johnson
LU : The Body Finder – Kimberly Derting [#]

Queen in Exile - Donna Hatch

LU en 2011 : Birthmarked - M. Caragh O'Brien [#]

Bitter Frost - Kailin Gow

LU en 2011 : Paranormalcy - Kiersten White [#]
LU en 2011 : Finding Sky - Joss Stirling
Lu en 2011 : Wish - Alexandra Bullen


A l'initiative de Virginie (Les chroniques de Chrestomanci), je me lance un gentil défi : sélectionner 12 livres avec des créatures de la nuit, et ces 12 livres sont à lire sur l'année 2010. Facile !
***
Voici donc mon programme :
challenge bouclé - mai 2010
24/11/09
... pour toi, Emmyne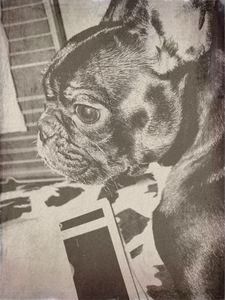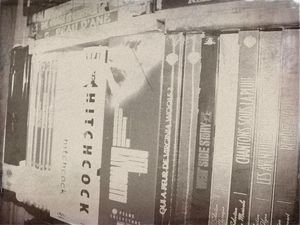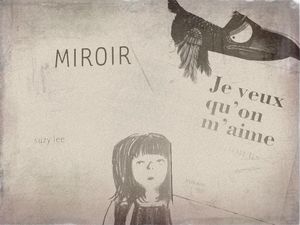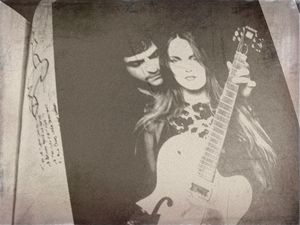 #1 - 95% de ma garde-robe est en noir #2 - le chien sur la couette vache #3- ma collection des classiques du cinéma #4- deux superbes albums, dont je peine à trouver les mots justes, pour dire tout le bien que je pense d'eux : Miroir de Suzy Lee et Je veux qu'on m'aime de Leo Timmers #5- des livres anglais, qui font partie de séries que j'affectionne #6- un couple star, pas à la ville, mais de coeur et de fibre artistique
Marilyn forever.
nb : les photos ont été vieillies grâce au bakumatsu koshashin generator.
17/11/09
Allez, pourquoi pas ? La nouvelle Mrs Duchovny vient de m'en faire cadeau (un questionnaire où l'on parle des 7 occupations qui rythment l'automne... et en musique, s'il vous plaît !).
First of all, THE HUNGER GAMES, naturally.
Ma folie douce. Mon onguent. Ma crème. Mon addiction.
Le genre de lecture qui me met en transe.
La musique qui colle à ces livres : Uprising de Muse (forcément) :
mais aussi Blow me away de Breaking Benjamin / Little bird par Imogen Heap / et Breathe me de Sia :
Les blogs anglais.
Je ne passe pas une journée sans faire ma tournée des blogs anglais.
On y retrouve souvent les mêmes livres, parce que les blogueuses en reçoivent énormément de la part des maisons d'édition. Donc, pas de grande originalité dans les propositions, mais il est encore possible de dénicher des découvertes.
Grâce à eux, j'ai enrichi ma collection de séries, qui sont venues grossir mes piles de livres à lire.
Mais promis, j'ai décidé de me sevrer. (Ahem)
# musique : Lisa Mitchell - Coin Laundry
Le thé.
A la base, je suis une grande buveuse de cappucino.
Et pourtant, cet automne me voit boire des litres de thé. Ma dernière préférence a été pour le rhubarbe-vanille que j'ai hélas liquidé en moins de deux.
Dammann Frères, j'arrive !
# musique : Emily Jane White - Victorian America
le tout nouveau disque de -M-. Dans son coffret collector, bien évidemment.
Chaque année, à la même saison, j'ai la manie de ressortir mes disques de Juliette et je les écoute en boucle (la fille et son père n'en peuvent plus et crient pitié), mais que voulez-vous, une chanson comme A voix basse, c'est un peu moi, un peu vous aussi ...
Je délivre
De leurs livres
Des héros ou des vauriens
Qui surgissent
M'envahissent
Se vautrent sur mes coussins
(...)
Pour mon malheur, je lis beaucoup
Et c'est risqué, je le sais bien,
Mes hôtes peuvent aussi être fous
Ou dangereux, ou assassins
(...)
Je pourrais bien cesser de lire
Pour qu'ils cessent de me hanter
Brûler mes livres pour finir
Dans un glorieux autodafé
Mais j'aime trop comme un opium
Ce rendez-vous de chaque nuit
Ces mots qui deviennent des hommes
Loin de ce monde qui m'ennuie.
avoir le coeur gros en pensant à Patrick Swayze et revoir le film Dirty Dancing ... se rappeller combien ce film a été important, le faire découvrir à ma fille et se surprendre à réciter par coeur les répliques (sic) et se refaire la BO parce qu'elle donnait envie de danser, et parce que tout ça vous donne un sentiment que la vie, bah mon vieux, ça file vite et autant en profiter au maximum. :/ -) lire les billets de Flannie et rire de s'y retrouver... # musique : Dirty Dancing Movie Soundtrack - She's like the wind / Hungry Eyes
les vampires et autres créatures fantastiques
mes choix de lecture varient, ce n'est pas uniquement l'effet d'une mode, c'est l'envie du moment, je ne lis pas tout le catalogue de la bit-lit ou de l'urban fantasy non plus, je suis curieuse, tout simplement.
d'ailleurs, le tic-tac a commencé, bientôt l'heure des retrouvailles !


# musique : Lykke Li - Possibility

A mon tour, je file le cadeau empoisonné à :

mle jteferaidire - Mirontaine - Lili Oregane - Francesca - Anne Ferrier - Camille fantasme