14/02/13
1. Shatter Me by Tahereh Mafi
First, there was the shower scene with perfect Adam.
"And he's kissing me. Once, twice, until I've had a taste and realize I'll never have enough. He's everywhere up my back and over my arms and suddenly he's kissing me harder, deeper, with a fervent urgent need I've never known before."
2. Unravel Me by Tahereh Mafi
And then there was Chapter 62 with perfect Warner. Between this chapter and the shower scene no wonder Juliette is so torn.
"I feel his lips against my shoulder, soft and scorching and tender, so gentle I could almost believe it's the kiss of a breeze and not a boy."
3. The Unbecoming of Mara Dyer by Michelle Hodkin
Caution: kissing like this might make you forget a lot of things.
"He would kiss me, right now, after everything I'd done. I was poison, and Noah was the drug that would make me forget it."
4. Fangirl by Rainbow Rowell
There's more kissing later in Fangirl, but we love Cath and Levi's first stolen kiss.

"Levi's kisses were all taking. Like he was drawing something out of her with soft little jabs of his chin. She brought her fingers up to his hair, and she couldn't open her eyes."
5. Under the Never Sky by Veronica Rossi
Why can't all first kisses be like Aria and Perry's?
"They molded together, fitted against one another with stunning perfection. Aria had never felt as she did now, exploring the taste of him. Feeling the strength of his arms around her. Inhaling sweat and leather and woodsmoke. His scents. She felt as though she'd found a moment of forever. Like this was how they should've always been."
6. The Crown of Embers by Rae Carson
You may think kissing in a sewer would be unappealing, but you'd be wrong.
"Suddenly, he yanks me against him and bends his head to kiss me. I melt into him as his fingers tangle in my wet hair. My mouth opens to his, and our tongues meet for the briefest instance before he pulls away."
7. Divergent by Veronica Roth
Sometimes it's the moment right before the kiss…
"Are you asking me to undress, Tris?"
That makes the kissing even better.
"We kiss again, and this time, it feels familiar. I know exactly how we fit together, his arm around my waist, my hands on his chest, the pressure of his lips on mine. We have each other memorized."
8. The Miseducation of Cameron Post by Emily M. Danforth
Sometimes perfect doesn't even begin to cover it.
"I turned around and found her face, and her mouth was already waiting like a question. I'm not gonna make it out to be something that it wasn't: It was perfect—Coley's soft lips against the bite of the liquor and sugary Coke still on our tongues. She did more than just not stop me. She kissed me back."
9. Harry Potter and the Deadthly Hallows by J.K. Rowling
The kiss that was seven books in the making. Was it worth the wait? Yes, yes it was.
"There was a clatter as the basilisk fangs cascaded out of Hermione's arms. Running at Ron, she flung them around his neck and kissed him full on the mouth. Ron threw away the fangs and broomstick he was holding and responded with such enthusiasm that he lifted Hermione off her feet."
10. The Distance Between Us by Kasie West
Things really heat up between Caymen and Xander in the kitchen.
"He takes me by the waist and lifts me onto the counter. I wrap my legs and arms around him and press my lips to his."
11. Aristotle and Dante Discover the Secrets of the Universe by Benjamin Alire Sáenz
Sometimes the second kiss is better than the first.
"I took him by the shoulders. I looked at him. And he looked at me. 'You said I wasn't scared of anything. That's not true. That's what I'm afraid of. I'm afraid of you, Dante." I took a deep breath.
'Try it again,' I said. 'Kiss me.'
'No,' he said.
'Kiss me.'
'No.' And then he smiled. 'You kiss me.'
I placed my hand on the back of his neck. I pulled him toward me. And I kissed him. I kissed him. And I kissed him. And I kissed him. And he kept kissing me back."
source : http://www.epicreads.com/blog/
23/02/12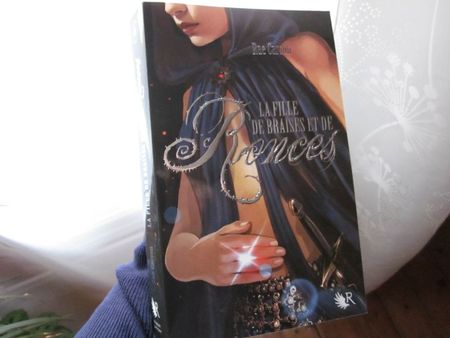 Lucero-Elisa est une princesse, mais pas du genre habituel. Elle se décrit comme une grosse saucisse, son physique grassouillet la dégoûte, et parce qu'elle se sent empotée et dévalorisée, elle se goinfre tout le temps. Pourtant, elle porte une Pierre Sacrée au nombril. Depuis sa naissance, le Destin a fait d'elle une Elue. Promise à accomplir un grand miracle, mais lequel ? Elisa ignore tout de ce qui l'attend, son père et sa soeur aînée la tiennent à l'écart des affaires du royaume, d'ailleurs elle n'a pas son mot à dire lorsqu'à seize ans, elle doit se marier avec le roi Alejandro d'une contrée voisine.

Sitôt arrivée au palais de Joya d'Arena, Elisa est déconcertée par l'attitude courtoise mais distante de son époux. De plus, celui-ci lui demande de maintenir le secret sur leurs noces et d'être attentive aux faits et gestes de la cour. Au lieu de la réconforter, cette déférence accentue le malaise d'Elisa. C'est tellement plus rassurant de se réfugier dans les cuisines, ou à la bibliothèque, où elle cherche par tous les moyens à obtenir les réponses que ses proches ont longtemps refusé de lui donner. Et là, paf ! changement de décor. Changement de carte. On reprend toutes les données et on révise son jugement.

La deuxième partie de l'histoire passe la vitesse supérieure, voulant apporter un éclairage différent. Elisa n'est plus l'héritière choyée dans son palais royal, elle est confrontée aux réalités du terrain ... et c'est déroutant. Mais les nouveaux personnages qu'on croise sont attachants. Elisa elle-même va adopter une nouvelle attitude, prendre confiance en elle, s'investir et prendre des initiatives. Il y a toujours en elle cette jeune fille timorée, mais le temps est compté car la guerre fait rage. Les troupes ennemies ont élaboré des plans d'attaque de longue date, alors que son père et son époux passaient leur temps à palabrer autour d'accords entre voisins. Quelle perte de temps ! De plus, à la tête de l'ennemi, se trouvent des Animagi, des créatures redoutables, et Elisa n'est plus très sûre d'être à la hauteur des espérances quant à son statut d'Elue.

Ce qui a été passionnant à suivre, dans ce roman, c'est bien évidemment l'évolution de l'héroïne. Au départ, Elisa est une fille pataude et encombrée d'un corps disgracieux, qui s'est forgée une carapace derrière son esprit caustique, et qui va progressivement se découvrir une force et un pouvoir d'analyse hors du commun. La métamorphose ne relève pas du miracle non plus, il faudra du temps, de l'expérience et des rencontres pour permettre au papillon de sortir de sa chrysalide. Et le regard amoureux d'un jeune guide du désert, aussi... (une belle rencontre bouleversante). La fin du roman est davantage ancrée dans l'action, la guerre, la politique et les enjeux militaires. Le ton se durcit, l'auteur force le destin et n'y va pas avec le dos de la cuillère. Le dénouement est implacable, déstabilisant, et pourtant juste. On pourrait rester ainsi, sur ces nouvelles pistes, mais c'est trop tentant de vouloir en savoir plus. (Et puis j'ai un faible pour Hector.)

Ce roman, riche en aventures, demeure incontestablement un beau portrait de femme, qui force l'admiration.
La Fille de Braises et de Ronces, par Rae Carson
Robert Laffont, coll. R, 2012. Traduit par Madeleine Nasalik.
titre VO : The Girl with Fire and Thorns